Current situation with delivery to the UK
Dear customers! UK order delivery is currently unavailable due to Brexit. All orders created before 26th of January 2021 will be delivered as standard. Delivery to Ireland continues to operate without restriction. Thank you for your understanding!
We constantly monitoring the whole situation and we will inform you of any changes.
We apologize for the inconvenience and thank you for your understanding!
All Goods in Stock will be delivered in 7 working days after Order Confirmation.
All Goods are shipped from our warehouse in Slovakia. Our delivery partners are GLS,DPD, Packeta.com and GB Royal Mail.
Transport options:
1) Courier Home Delivery
By choosing this transport, you give us the confidence to select the most advantageous carrier from our offer with an emphasis on quality and speed of delivery.
Delivery:
The selected carrier will inform you about the exact time of delivery.
If the date does not suit you, you can change it in agreement with the carrier. For example, you can postpone delivery to the next day (excluding Bank Holidays and Weekends).
Shipping Cost will be Automatically Calculated when you add the item to your cart.
When you buy more than GBP 100 you get a Free Shipping!
The shipping price for United Kingdom is GBP 18 incl. VAT.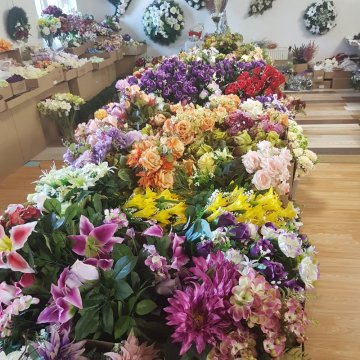 We are an online retailer of artificial flowers and a manufacturer of decorated decorations and artificial wreaths