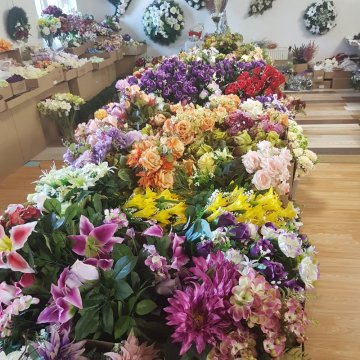 We are a supplier of artificial flowers and decorations and a manufacturer of decorated wreaths and arrangements for every occasion. Our arrangers follow the latest trends and our products always have an excellent price / quality ratio. Shop online from the comfort of your home or office, shop directly from the manufacturer!

We offer a complete range of artificial flowers. We also offer palms, trees, Christmas trees, decorations, mourning items and many other accessories.

In our e-shop we offer you the opportunity to purchase both arranged and "empty" wreaths and ikebana, various types of artificial palms and trees, for florists we offer the possibility of buying flower heads, individual flowers, but also bouquets.

Some variants are suitable for interior and exterior. In a large number of cases, we also supply our goods as decorations to restaurants, shopping centers, wellness centers, offices, hotels, etc.

Thanks to large stocks, we are able to deliver a complete order within 7 working days of ordering.

We supply only quality and proven artificial flowers, trees, palms and wreaths from a manufacturer with more than twenty years of tradition. As a guarantee of satisfaction, we offer that if you are not satisfied with the quality of our products, you can return them free of charge within 14 days of purchase and we will refund the price for postage.